Safety training streamlined for you
To better and more effectively serve your safety compliance needs, Vista Safety Consulting is pleased to offer a completely customizable online Learning Management System (LMS) to deliver necessary training courses right to your employees. All of your safety training requirements can be addressed with our easy to use, one-stop system.
✶

Easy access from phone, tablet or computer

✶

Designed specifically for you and your needs
✶

Wide variety of training topics available
✶

Tracking and reporting is made simple
Customizable Learning Management System
Vista's customizable Learning Management System is designed specifically for you and your employees, satisfying all of your safety training needs.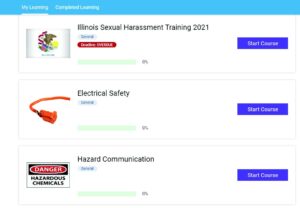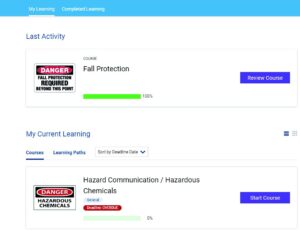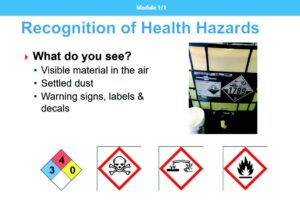 Our unique platform allows your employees to complete their mandatory training from just about anywhere, on a variety of devices. The process is so simple, even those uncomfortable with online learning will find the sessions intuitive and user friendly. Having all the training in one place provides a smooth experience that can include options such as:
Post-training tests or quizzes
Timed training
Certificates
Records indicating who has completed the training and who has not
As always, a Vista Safety Consultant will be available to help you every step of the way – from designing your individualized trainings, to rolling out the platform to your employees. Updates and changes to the training modules can be made simply and quickly.
Vista Safety Consulting's customizable training includes:
Fall protection
Electrical safety
Lockout/tagout
Hazard communication
Illinois Sexual Harassment
Other training topics unique to your business needs
Vista Safety Consultants can also develop non-compliance training modules with information valuable and necessary to your company's daily operations. Those may include:
New hire orientation training
Machine-specific lockout/tagout training
Specific process training
Machine usage training
Vista Safety Consultant's streamlined, individualized training platforms offer many advantages over the many other options on the market. These include:
Ease of use, even for the non-tech savvy user
Specific, customized, non-generic training
Specialized learning paths
Easy, reliable tracking and reporting of trainings
Reliable access on computers, phones and tablets